Dwarven Forge Tips
by Mike Shea on 28 September 2009
I'm a big fan of Dwarven Forge, though the expense can hardly be justified. Today we're going to look at four tips to get the most out of your Dwarven Forge investment. This article assumes you have already driven over the edge and purchased a few Dwarven Forge sets. Instead of selling you on the best dungeon accessories ever made, I'm going to focus on tips for those who already have Dwarven Forge sets. And now, the tips.
Build Up
Being able to build in three dimensions is the main advantage of Dwarven Forge over other dungeon mapping systems. Make use of this as often as you can. Use corner or hallway pieces to prop up large floor tiles to build two or even three platforms high. The DF sets containing stairs and large floor tiles are especially great at building up as well as out. Always look for ways to build in raised areas into your DF dungeons.
Build Room by Room
Though there is no real economical strategy for Dwarven Forge, one way you might save a few dollars is to build your setups room by room instead of a single interconnected dungeon setup. Even if you only have one or two sets, you can take pictures of different configurations and use the pictures to accurately rebuild rooms between battles. If you're moving sets around, build them on wooden boards and set the whole board on the table when it comes time to reveal that room.
Focus on Detail
It's easy to build a quick room with Dwarven Forge but it's the detail that makes DF sets so great and that same detail can make your dungeon something realistic and special for your players and yourself. Always spend some time adding details into your dungeons with torches, beds, chests, tables, chairs, and other accessories, just remember, it's tactical terrain for building utilizable dioramas, not a doll house.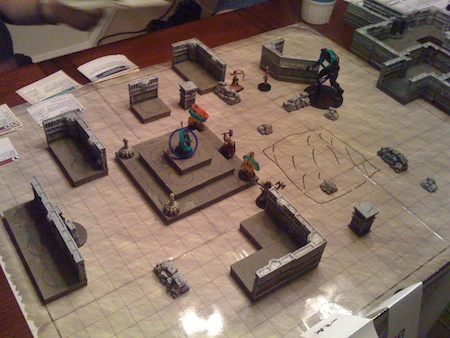 Mix Your Media
There's nothing stopping you from mixing Dwarven Forge with other mapping systems such as D&D Dungeon Tiles, erasable battle mats, or poster maps. Find ways to mix your media together to create eye-popping 3D environments for your characters to battle. You don't always need to build room after room. Every so often set up a wide open space with Dwarven Forge pieces spread out over it.
Use Black Cloth as your Fog of War
For a final tip, use large pieces of thin black cloth to hide areas of your dungeons not yet seen by your players. Old black t-shirts work particularly well.
Hopefully, with these tips in hand, you can get the most out of your fine Dwarven Forge dungeon tiles. For more pictures of my Dwarven Forge setups, visit my D&D Flickr Album. Have fun!
Send feedback to @slyflourish on Twitter or email mike@mikeshea.net.