Sly Flourish's Dungeon Master Tips Book
You're a good dungeon master. You've read both Dungeon Master's guides. You've run a few games. You pick up ideas here and there on the net. Or maybe you're an old grizzled vet who has run games for 20 years.
Maybe your game is feeling a little stale. Maybe your encounters didn't run exactly as you wanted them too. Maybe you feel like you're stuck in a rut. Maybe you feel a bit overwhelmed when you have to come up with an exciting, creative game every week.
You're not looking for a huge tome on game theory. You don't need yet another take on world-building. You're looking for some practical tips you can use today to help you focus your energy in the right places and make some kick-ass D&D games for you and your friends. You want something you can read quick and start using right away.
My friend, here is the book for you.
This book was written to give you solid usable tips to help you build your story, design exciting encounters, and run a great game when you're at the table. It's a short book, designed to be read quickly and referenced often.
Oh yeah, and it's got some awesome original artwork by Jared Von Hindman of Head Injury Theater.
This is a completely original book. Every chapter was written from scratch to help you focus on what's important and get past some of the roadblocks we all face when designing a D&D game.
Not sold yet? Take a look at the 19 page, three chapter sample and see if this is the right book for you.
Is your game heading to the epic tier? Take a look at Sly Flourish's Running Epic Tier D&D Games!
Where can I buy it?
Buy the PDF and eBook package from Paypal ($3.99) ** best deal **
The easiest way to buy this book is to buy the PDF and eBook package through Paypal. When you complete your purchase through Paypal, click the "Return to Merchant" link on the confirmation page so you can download the zip file containing two PDF copies and two eBook copies of the book. The link is not sent in email automatically although I will send it once I see the message which might be up to 12 hours from your purchase.
This package includes two different PDF versions, one for small displays like the iPad and Kindle, and one for larger displays like screens. The larger PDF can be printed out on 8.5" x 11" paper.
This package also includes eBook versions in both ePub and Mobipocket for use on the iBookstore app, Kindles, Nooks, iPhones, and other ebook readers. This is the most versatile package you can get for the book.
Buy for Kindle readers at Amazon ($3.99)
You can also purchase Sly Flourish's Dungeon Master Tips at the Kindle Marketplace. This lets you display the book on your PC or Mac, on your Kindle, and on your iPad, iPhone, Blackberry, or Android devices through their Kindle readers.
Buy in print at Lulu.com ($7.99)
If you teleported in from the 1800s and prefer to have a very nice print copy of the book instead of all these strange magical electronic formats, you can purchase the print copy of Sly Flourish's Dungeon Master Tips at Lulu.com. This is certainly the most durable version of the book and lets you write your own notes directly in the book, run over it in your car in rage, or draw little mustaches on all of Jared's artwork.
What will I get from this book?
You'll get a slew of table-usable tips and tricks to help you focus on making your game awesome. Here's a full table of contents:
Section 1: Build Your Story
Focus On Your Next Adventure
Review the Adventure Checklist
Maintain Creativity
Tell Organic Stories
Create Awesome Villains
Avoid Story Pitfalls
Section 2: Design Fun Encounters
Use an Encounter Checklist
Balance Challenge and Fun
Build Exciting Battle Maps
Make Environments Enjoyable
Use Minions Effectively
Improve Solo Creatures
Design for Fast Combat
Optimize Your Monsters
Avoid Encounter Pitfalls
Section 3: Run a Great Game
Use Props and Handouts
Keep your Players' Attention
Manage Time At Your Table
Run Exciting Skill Challenges
Get Your Players to Roleplay
Use Cheap Table Tools
Use Effective and Fun House Rules
Tap into the D&D Hive Mind
What are other people saying about it?
Michael Evans wrote this review at Neuroglyph Games (Rating: A-) that states:
I really think that Sly Flourish's Dungeon Masters Tips is an ebook that all 4E Dungeon Masters should consider picking up. While it does read rather like a "self-help" book for DMs, and some may find that the advice in it has been "known for years", it is still a good read, and has some great points to make alongside the fun artwork of Jared von Hindman.
Dave Chalker wrote this review on Critical hits that states:
For anyone who has been running 4e for a bit, I'd definitely recommend picking this up. You won't necessarily find not already covered elsewhere if you're an avid blog reader (especially of Sly Flourish.) However, you won't find it this well-organized and easy to reference on the Internet. For the price, utility, and general abundance of practical tips, youill find it well worth buying.
Mike wrote this review for RPG Musings that states:
If you're currently running a game and there are few things that don't quite click or feel inefficient, this book probably has enough to help you overcome that and have more fun. If you're new to DMing, some of the advice might be a little overwhelming without reading and understanding the advice in the DMGs first. There is enough useful stuff on a range of running a game topics that any DM would find something in here they could use right away.
Show me more of Jared's art in this book!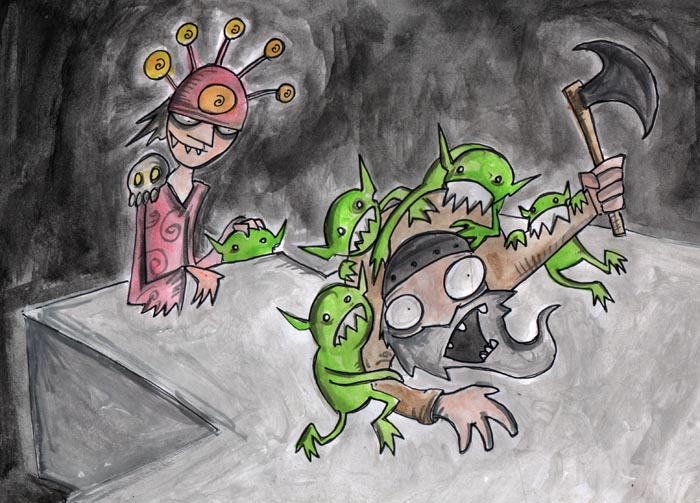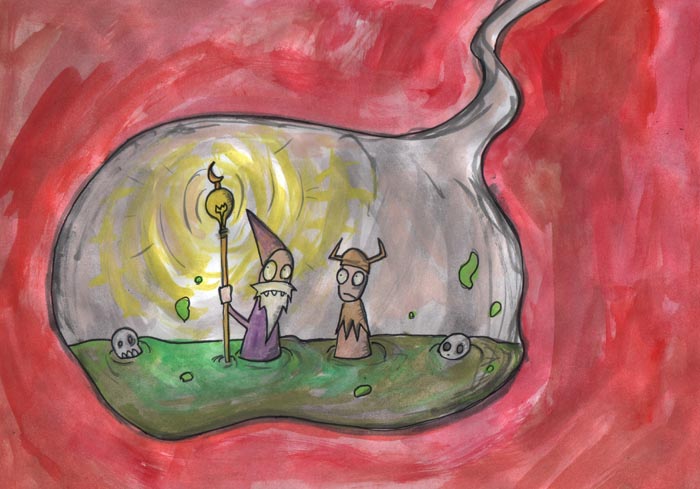 Follow slyflourish on Twitter to hear about this book's release and get ready to run some awesome D&D games.
- Mike Shea