New to Sly Flourish? Start Here!
---
Get $96 of Sly Flourish books for $20 at the Sly flourish Bundle of Holding!
---
Miniature Painting Resources
by Mike on 29 April 2013
Note: This article has been updated from the original published in April 2013.
With the recent shipping of the incredible Reaper Bones 2 miniature Kickstarter rewards, its time to freshen up our miniature painting skills. In this article, we're going to offer a list of valuable resources to learn what materials to pick up and how to paint these oodles of minis we might have picked up.
If you know of good resources not on this page, please email them to mike@mikeshea.net or tweet them to @slyflourish.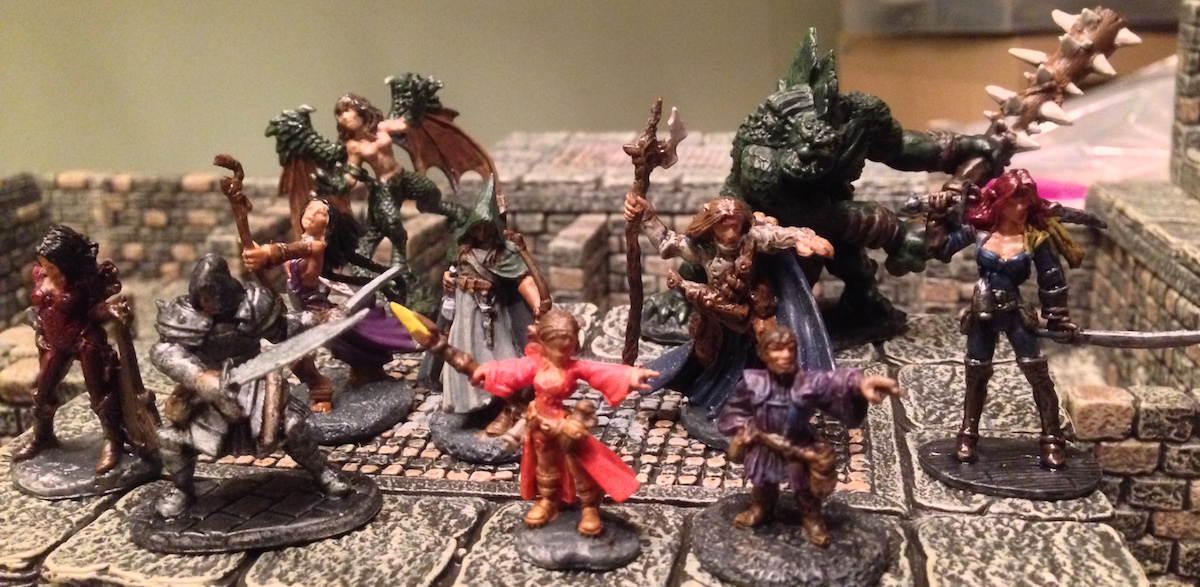 Mike McVey has a series of articles on the Wizards of the Coast website posted over a decade ago called the Paint Like a Pro series. This eight-article series goes into all of the steps and details needed to paint minis. The links to the whole series are on the left side of the page.
Dr. Faust's Painting Clinic has a series of excellent how to articles and videos to give you tons of tips and examples on how to paint miniatures better.
The Reaper Bones Unofficial FAQ answers a lot of questions about the Reaper Bones themselves.
All About Bones is one man's chronicle about painting all of the miniatures in the original Reaper Bones Kickstarter.
Youtube also has some great miniature painting videos. Check out those by Miniwargamer Jay and Engineer Jeff.
Some Of My Own Thoughts
I'm still new to painting but I've painted over a hundred of the original Reaper Bones Kickstarter minis and picked up a few thoughts of my own. My experiences are still very limited so take that into consideration.
Metallic paints chip very easily. I painted a lot of metal weapons and then had to repaint them when the paint chipped off. These days I only use metallic paints to drybrush something and give it a bit of shine. I don't put on a layer of metallics at all.

Many suggest that sealing a miniature is important but given the flexibility of Bones miniatures, I wonder whether the sealer makes the paint so brittle that it breaks off if the miniature flexes at all. I'm going to experiment by not sealing any miniatures from the Bones 2 Kickstarter until I see that they are really less durable. I bang my miniatures around a lot so I'll know quickly if sealing is needed or not.

Because paints are so expensive, it's economical to paint a bunch of miniatures at once. That way you waste a lot less paint if you find yourself with extra paint at the end of a job. I always have a few unpainted miniatures ready to paint in case I have some extra brown paints.

I began my practice on some of the Bones I really didn't care about. That way I didn't care if they sucked. I didn't want to start on the minis I was most interested in painting. I wanted my technique to match the challenge when I did take them on.

There are a lot of techniques for painting miniatures. Mine was mainly basecoat, then wash, then drybrush. I never really learned how to layer.

Dilute washes, even the washes that shouldn't need it. You can always darken it but if you go on too dark it's really hard to lighten it up again. The same goes for drybrushing. Less is more when drybrushing. You can always put more on but it's really hard to fix it if you put on too much.

My most-used Reaper paints included the following:

Earth Brown (great for leather)
Tanned Skin (the best skintone I've found)
Armor Gray (excellent dark gray)
Storm Gray (basecoat for any armor)
Antique Gold (good gold drybrush)
Honed Steel (good steel drybrush)
Aged Bone (my favorite off-white)
Black Wash (for inorganic washing like armor)
Brown Wash (for organic washing like skin)
Nightsky Blue (a beautiful blue)
Crimson Red (a fantastic red)
The sites above should give you a ton of instruction but the best way to get better at painting miniatures is to get started painting! If you have other excellent resources to share, please email me the links and let me know what you love about them.
Related Articles
More from Sly Flourish
Sly Flourish's Books
Share This Article
Share this article with your friends using this link: https://slyflourish.com/painting_minis.html
Have a question or want to contact me? Check out Sly Flourish's Frequently Asked Questions.
This site uses affiliate links to Amazon and DriveThruRPG. Thanks for your support!