How to Get Back Your Player's Attention
by Mike Shea on 31 August 2009
Anyone who has DMed for any length of time has seen it many times. Combat in 4th Edition D&D takes some time and during this time, the attention of our players will wander. They go read their other D&D books, they start playing Peggle on their iPhone, or, worst of all, they actually wander away from the table.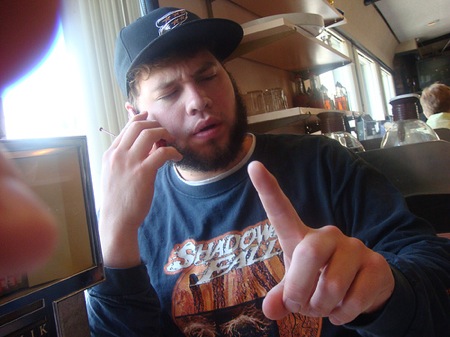 First of all, we must remember that the short attention span isn't just their problem, it's your problem too. You're game simply isn't stimulating enough to keep their attention from wandering. Sometimes this is ok and sometimes it can't be helped. Fighting it directly isn't the answer, however.
Today we'll look at some tips for keeping the attention of your players on the game in front of them without direct confrontation.
Stress Immediate reactions
One of the ways 4th Edition D&D keeps people paying attention is through immediate actions. Whether it's as simple as an opportunity attack or a more complicated effect of an item or power, immediate actions can happen at any time. Remind your players regularly to pay attention to immediate actions. If you see someone's attention beginning to stray, take advantage by moving around them and provoking an opportunity attack. Remind them that if they aren't paying attention, they miss the chance.
Build an On-Deck System
There's two other great ways to keep your game speedy and keep your players' attention. Set up an "on deck" system. On initiative, call out who is up and call out who is up next. Tell the guy or gal coming up next to plan their move, roll their dice, and tally the numbers. On their turn, they simply state the actions, attack score, and damage. This can move things along at a much faster pace.
Show Initiative Orders to Everyone
Always keep your initiative order visible to everyone at all times, including yourself. I do this by draping initiative cards over the top of my DM screen. I have the character names on both sides so I and the players can all see them. Sometimes I too can become distracted and the players can help out by ensuring things are moving along. Keeping the initiative always visible to all means the players can police each other.
Implement a Buddy system
One way to keep the attention of your players on the game is to establish a buddy system. Pair up your players and have them discuss their strategies or plan their actions together. Make sure they're sitting together so they don't disrupt the rest of the game with their conversation. A buddy system will help one player keep another player's attention at the game. If you have multiple iPhoners at your game, make sure not to pair them up. Pair each mind-wanderer with someone you know regularly pays attention.
Switch regularly to roleplaying
In the mechanics-heavy D&D 4th Edition that we're playing, it's easy for DMs to get caught up in the math and the rules and forget about the story. During combat, regularly switch to in-character monster voices. Make them interesting or fun. Give out tips of things to come or little background quirks. When you feel the attention of your players slipping, switch into some in-character banter to bring them back to the story. Don't turn it into a long monologue, but have some fun with it too.
The Three Ring Circus
Modern circus acts have learned that to keep the attention of your audience, you have to give them more than they can process. This isn't an easy thing to do as a DM but, from time to time, you may find ways to engage all of your players simultaneously. You can do this by delegating the jobs of a DM out to players or adding mind-bending puzzles in the middle of combat.
The key is to look for the times when you can accomplish such things and put them into play to draw the full attention of your players back to the table.
All of it starts with a simple question, however. If you see the attention of your players wandering, what can you do to bring them back?
Send feedback to mike@mikeshea.net.